200105 08:31

it was only a matter of time before the record industry decided to get serious about copyright infringement on mp3 blogs. i believe - and hopefully you do too - that mp3 blogs provide a gateway to music for their readers. by downloading 1-2 tracks from an artist from an mp3 blog, you're encouraged to find out more and perhaps buy an album. if the volume of email i receive from independent labels and bands is any indication, then this would appear to be a service in everyone's favour. 'not so' says the international federation of the phonographic industry (IFPI) who this week forced the server closure of mp3 blog moistworks. head over to the site to read the letter and click on the comments section for an interesting range of feedback from readers.

it's worth noting that there a couple of varying schools of thought about posting tracks on mp3 blogs. some group emails between mp3bloggers flew around this week and we definitely fall into three distinct camps. (1) legal mp3s - tracks taken from legitimate sources, i.e. the artist / label has made an mp3 available on their own servers. this is how fat planet works. (2) permission based - blogs post tracks on their own servers, but have asked permission from the artist / label to do so. (3) no permission - blogs post tracks on their own servers, without permission. version (3) is where moistworks sat and is probably the territory that the IFPI will prowl, picking off unsuspecting blogs as they go.

i'll say here and now that i support moistworks and all blogs falling into the last category, irrespective of its legality. i wouldn't be publishing fat planet or have heard a large % of my music collection if it wasn't for those blogs. it's about music education, not piracy - and the two are so far removed from each other as to be laughable. i don't concurr with the idea that by posting 1-2 tracks on an mp3 blog that an artist loses out - these tracks are 'feeders' to buying albums, in the same way that the music industry has marketed singles for years. we know that singles don't make money for an artist, so why worry about an mp3 blog that fulfills the same function? i liken mp3 blogs to radio / television - it's all about promotion. and in this case free, positive promotion - and the IFPI wants to close it down... hopefully one day this will all seem ridiculous, today it seems incredibly harmful and short-sighted.

a final note on streaming - the industry might say 'stream or be damned'. sure, we can stream songs rather than download, but the quality is generally poor, i can't listen to it through anything other than PC speakers and, if you're on a 56K modem, buffering gets to be a bitch. no, i like my music on mp3 - burn it to CD, listen on the iPod etc. the more opportunities i have for listening to the track away from the computer, the more i'm likely to fall in love with it and buy an album.

enough of that, here's the music (from legitmate sources, natch ...)
ASIAN DUB FOUNDATION [ENGLAND]
19 rebellions mp3
another track from the 'enemy of the enemy' album. found a remix of this tune when i was getting deep and dirty insider the uk iTunes store last weekend - in fact, there's a whole 'enemy of the enemy' remix album on there, including two smart mixes of 'la haine' by dark dancehall / breakcore artist the bug. i've now fully converted my brain to the glory of the iTunes store (another knock on effect of mp3 downloading over the years...), so much so that i've put together a fat planet iMix, a compilation that you can download via the iTunes store. if you like the blog and you want to give something back to the artists in $$$, then this is one way to do it. click here for more fat planet iMix info.

LUNZ [GERMANY]
wobbly flu twilight mp3
if you liked half cousin in the recent post, then you might get into this too - taken from the same label, groenland, same vested interest as before. lunz are hans-joachim roedelius and tim story. roedelius is formerly from the band cluster and story is a grammy nominee for his work on 'the legend of sleepy hollow'. i can't confess to knowing much about cluster, but the groenland site has them cited by the chicago tribune as "one of the best-kept secrets of 20th century music". roedelius has also collaborated with luminaries such as brian eno, holger czukay from can and the guys from neu! but expect none of that sound from this mp3 - quite the opposite. this is sparse, piano duets of incredible beauty, taken from their self-titled debut album. it's getting further attention thanks to a 2nd release, a remix project called 'lunz interpretations'. and this isn't some ham-fisted exploitation venture - the remixes take the originals and craft almost entirely new tracks around them. on remix duties are alias, faultline, elbow, adem, ulrich schnauss, icarus, munk and more. there's some streaming samples on the 'radio shack' over at groenland and you should go their shop while you're there and just buy the damn thing.

BALUN [PUERTO RICO]
the glass bicycle mp3
see entry dated 221104 for more info on this electronica three-piece from puerto rico.

EZ3KIEL [FRANCE]
versus mp3
been playing a few tracks on the show recently from the french jarring effects label, from which ez3kiel comes. the label sampler is a mixture of broken beat, dub and skewed hip hop. plenty of mp3s to download from the label site. the band also have a very industrial and smart looking flash site to have a browse around.

DJ SPOOKY [US: NEW YORK]
rebirth of a nation - movement one (rough cut) mp3
spooky brings his 'rebirth of a nation' show to sydney next week for the festival and it's safe to say that i'm getting excited by it. all indications are good (including this rough cut mp3). spooky has taken as his source material d.w. griffith's 'birth of a nation' silent film, widely regarded as the first racist movie and responsible for sparking a resurgence of the kkk. spooky has re-appropriated the film to bring a different message, remixing the soundtrack with his own original material and representing a new edit of the film across three screens. spooky (aka paul d. miller) has a great deal to say on the subject and you can find it all in the articles section of djspooky.com.


--

120105 21:27

it's hard getting back into the groove after new year, especially when sydney has just exploded with touring bands, festivals, film events and so much more. january in sydney is when most of the year's major cultural events happen, both high brow and low brow. last week i caught the wonderful philip glass and his orchestra playing a live simultaneous score to the classic 'koyanasqatsi', plus the opening international program in the flickerfest short film festival. this weekend, i'm looking forward to the tom waits / william s.burroughs / robert wilson theatre collaboration 'the black rider', the sydney premiere of the ramones documentary, plus i'm dj-ing as support for sydney's excellent decoder ring. and then there's next week...

this week's fat planet playlist is now online and here's some mp3s from featured artists:

CARLOS LIBEDINSKY [ARGENTINA]
piano secucencia mp3
some tango electronica for you (by way of introduction to two latin influenced tracks on today's blog). there appears to be a growing body of artists working in electronica in argentina - acida, el cholo, index, alex krygier, but it would seem that carlos libendinsky is at the forefront of this movement thanks to his recent release 'narcotango'. described as a collection of music for the moment at a tango club where exhaustion gives way to experimentation, where tradition fades and improvisation takes over. libendinsky talks about this being the 'narcotic power of the tango'. you can find more information and short audio extracts at carloslibedinsky.com.

NOVALIMA [PERU]
sunday canon mp3
one of the best (in many cases only) way to find new music from some regions is the glorious compilation CD. don't be fooled by dumb titles (e.g. 'bellydance extravaganza!') or garish covers of latin women in bikinis - behind many a facade can lie some excellent music. the 'essential beats / flavas' series has been consistently excellent - three volumes of contemporary asian beats, one brazilian and two latin. novalima are a peruvian band that i found through the compilation 'essential latin flavas dos' with their track 'ritmos negros'. they are a four-piece 'collective', scattered around the world in bacelona, hong kong, london and lima. that's what i call a real international collaboration. they describe their music as "heavily driven by afro-peruvian and latin percussions, blended with downtempo, dub, broken and house beats". [site]

CALAMALKA [CANADA]
hear the most mp3
vancouver based musician michael campitelli surfaces here with an outstanding collection of electronic dub on his newly released for the plug research label 'shredder's dub'. i do enjoy a healthy dose of old school dub now and again - but i've also been impressed with the newer schools too, such as france's jarring effects label, and the material on ~scape (such as deadbeat). calamalka's album also touches on the crossover region between dub and downtempo hip hop, and is a great addition to the plug stable. check out plug's epitonic page for downloads from daedelus, dntel and john tejada.

JENS LEKMAN [SWEDEN]
at the department of forgotten songs mp3
i featured this guy back in october, but you can't keep a good blackly comedic singer / songwriter down. this track is culled from a large collection of rare and unreleased songs over at secretlycanadian.com - as it also doubles for the section name on the site, it seemed like an apt mp3 to pick. i also dig this mp3 as it kicks off with a mournfully eerie instrumental segment that plays for half the track.



--

050105 09:05

happy new year to y'all. the start of a year is always a good time to blow out the cobwebs, tear down the walls, kick out the jams (or the chairs) - hope you can find some space to do at least one of those things this week...

playlist from the inaugural 2005 show is here, download music from some featured artists right about now >>>

ANCIENT MITH [US: COLORADO]
bloody flags (remix feat. demune & the mole) mp3
kicking off 2005 with a whole roster of artists to get your bandwidth crackling over at motionrecordings.com. i was lead there by the excellent album from mattr and friends called 'consequence of thoughts'. mattr is a producer from switzerland who roped in most of the motion recordings crew on this release for MC duties. this is hip hop from the darkest realm, with mattr pumping out some delicious broken quasi-industrial electronic beats. material from mattr doesn't come easy online, so i've selected a track from one of the 'friends', namely denver-based ancient mith. there's heaps more material to get your hands on, like hawaiin producers demune and hairdresser mike. motion have also launched a remix comp and have provided what seems to be an entire back-catalogue's worth of acapellas to throw into your own mix.

PETER, BJORN & JOHN [SWEDEN]
teen love mp3
played a peter bjorn and john track on the show from the excellent 'it's a trap readers companion volume one' [site] put together by the scandanavian blog run by avi roig. (if you've yet to visit, this is one of the most comprehensive english sites covering scandanavian music in all flavours). this track from the band is a cover of a track by fellow swedes the concretes, whose single 'you can't hurry love' was one of the shining moments of pop greatness in 2004. even without the concretes' signature female lead and spector-esque production, their songwriting still shines through on this track. you can find this on peter bjorn and john's new album 'falling out' [buy here].

HALF COUSIN [SCOTLAND]
country cassette mp3
i have to reveal a vested interest on this - my wife and i produced the web site for half cousin's record label gronland records last year (which, happily, was nominated for 'best label site' in the 2004 online music awards - plug, plug...). bias aside, half cousin's debut album 'the function room' slipped under most radars outside the uk on its release last august, although it landed a very respectable 8.1 on pitchfork. half cousin hail from the outermost area from scotland - from orkney, an island which is reached by a long and bumpy ferry ride from the northern-most tip of the country. orkney is a relatively bleak place, although the sense of nordic history is overpowering - burial chambers and other viking remanants lay scattered across the island. i can't think of a more perfect location to sit down and put together a collection of rich contemporary folk songs, married with angular electronic production. scotland's other famous electronic export boards of canada chose pastoral farmland as their geographic inspiration - take that notion and imagine something darker, yet no less beautiful. [buy here]. more info on their better propaganda page.

UNCUT [CANADA]
understanding the new violence mp3
last year saw the disco-punk, post-punk, new wave ('tell me wot you call it'...) template being rolled out across a great many bands, often to alarmingly tedious effect. thankfully, one of the champions of the sound, lcd soundystem, have recorded an album that puts them at the top of the tree where they belong - due for release later this month. uncut, a four-piece from toronto, have also been referenced in the same arena, but fortunately - on the evidence of this mp3 - they've a lot more to offer. the signature bass-heavy 4-4 is there, but rather than opt for a stripped-back affair (ala lcd), they've layered this with clipped chords, riffs, fuzz and more. seems to be a natural evolution for the new wave sound - perhaps 2005 will be a breakout year for these guys? more info on their site and check out their label, paperbag records, too.




--

201204 08:13

yesterday was the last fat planet radio show for 2004, so i rounded off the year playing back some of my favourite tunes from the last 12 months [check out the playlist here]. links to some of the tracks are safely tucked away in the blog archive for you to revisit (hit the archive button at the foot of this page and keep heading back through time for some choice tunes) - so for today's mp3 smorgasbord, i'm rounding up some of the links that have been sitting brodding, quietly at the back, and have yet to make it onto the blog. before that though, a heads up to irmin schmidt from can who i interviewed on today's show...

CAN [GERMANY]
oh yeah (from 'tago mago') mp3
pinch (from 'ege bamyasi') mp3
when introducing the irmin schmidt interview today, i went so far as to say that anyone making music other than traditional blues rock owes some kind of debt to can. the band formed in the 1968 from the nucleus of irmin schmidt and holger czukay, both of whom studied under the man who some regard as the grandfather of electronica, karlheinz stockhausen [more on stockhausen here]. after a visit to new york and being in the presence of a live performance of the velvet underground, the idea for can was formed. the band were incredibly prolific - not including compilations, there were 13 albums (11 of which fell in a 10 year period) and the first four have just been re-issued through mute records. it's true to say that genres such as post-rock would not be what they are today without can. their mastery of multiple forms of music, from rock to jazz to classical, may well be something that's expected of many musicians today, but back in the late 60s, it was almost a sacrilege. links worth visting: official can site - spoon records, holger czukay's personal history of can and mixmaster morris on can. a transcript from today's interview may well be posted soon.

AIRBORN AUDIO [US: NEW YORK]
bright lights mp3
formerly of anti-pop consortium (from whence beans also sprang), airborn audio is hip hop artists high priest and m. sayyid. their debut album 'good fortune' has been gestating for a couple of years and, given the added pressure of beans' remarkable 'shock city maverick' album, expectation is justifyably high. check out the mindzero site to download another track from the album (wma format).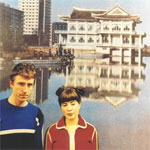 MING [BELGIUM]
sentir et analyser (barbara morgenstern rmx) mp3
fredrique vs superpitcher mp3
following in the wake of the excellent styorfoam album, some more great music from belgium for you, albeit remixed by some of the smartest talent in germany today. ming (pic.left) are a m/f duo frÈdÈrique franke and nicolas deschuytenee, perpetuating the ever-growing canon of middle european electronic pop. their recent album 'intÈrieur/extÈrieur' was given over to a squad of artists, whose own label loyalties read like a whos-who of the cutting edge of european music - diskoB, kompakt, monika, playhouse, kitty-yo to name but a few. the 2nd mp3 is described by ming's label as " is one of many mixed and vocally reworked tracks by frederique, put on her overdubbed dj set". make of that what you will. more info at doxa records.

BOOM BIP [US: OHIO]
the matter (of our discussion) (feat. nina nastasia) goto:scissorkick
the move goto:better propaganda
taken from his forthcoming album 'blue eyed in the red room', there's two new boom bip tracks now available at the above sites. he's been getting a great deal of press in 2004, mostly off the back of his remix collection 'corymb' which saw artists such as boards of canada, clouddead, lali puna and four tet getting on board to mix tracks from the 'seed to sun' album. according to his label, lex records, the new ten-track album is due to drop in a matter of weeks (february '05) and features no samples and very few vocals. scissorkick has posted one of the only two vocal tracks, featuring nina nastasia (the other will feature gruff from super furry animals) and you can download a 2nd track from the good folks at better propaganda.

TIEFSCHWARZ [GERMANY]
acid soul mp3
something a little more four-to-the-floor for you now - if you haven't come across any of the extensive tiefschwarz remix catalogue, you might have been hiding under the wrong rock lately. the three-piece have recently put together a 2 disc set 'misch masch' - the first cd featuring a mix set from the trio, the second is a compilation of their remix work with artists such as phonique, lopazz, dj hell, mocky and truby trio all being represented. the above track is taken from their self-titled 2002 album.

COPPE [JAPAN]
i lick my brain in silence mp3 edit
i can't find any full-length mp3s for this artist, but i did want to nonetheless draw your attention to coppe - a female japanese solo artist whose voice is compared here on the milk factory to beth gibbons, bjork and billie holliday. she's worked with pre-eminent electronc artists such as russian dj vadim, plaid and the orb. you can find heaps of edited mp3s at her web site - any pointers to full-length legal downloads appreciated!

AUTECHRE [ENGLAND]
while you're out and about on the galactic interweb today, also check out xltronic's 2003 autechre remix competition - 180 (count 'em) remixes of autechre tracks as part of their remix competition. if you don't have the time to trawl through around 15 hours of remixes (why not?), autechre's personal favourites were 'amnesie drane2 (remix)' mp3 and 'naftwa4 (handled by goodhands team)' [mp3]. also have a listen to this odd bootleg from mindovermidi.no - autechre vs david sylvian.

finally, heads up to emptyfree - a blog with a refreshingly eclectic selection, not for the faint-hearted. recent posts include rarely published links for polish and french hip-hop, plus articles on laibach, pan sonic, boyd rice and shitmat. also click over to radio free polygon for more electronic downloads - check out posts from calamalka, venetian snares, iso brown and the rip-off artist. go get yer lobes rattled.

and with that, the fat planet radio show bows out for 2004. there might be an occasional update during the xmas break if i'm feeling productive, otherwise we'll back on 3rd january 2005. have a freaking good holiday.

so it goes.



--

131204 09:00

monday morning (yawn) ... up with the worm-catchers to bring you some mp3s from yesterday's show. next sunday, if you're a sydney-sider, then get close to yr li'l radio box as i'll be ending the year with a special treat - fat planet meets IRMIN SCHMIDT, founding member of the legendary german krautrock pioneers CAN. tune in from 3pm on sunday 19th for this rare interview and tracks from newly re-issued CAN albums.

KONONO NO.1 [CONGO]
ditshe tshiekutala mp3
on the fat planet radio show, i try to play as much contemporary african music that i can get my hands on, without straying too far down the path of traditional world music. hence the recent posts on senegalese hip hop. however, electronic music from africa is practically non-existent - understandable given the reliance of electronic music on PCs and suchlike. so, it's great to see belgian label crammed discs giving us what they're billed as 'congotronics'. konono no.1 (who've been around for 25 years apparently) use an electro version of the thumb piano, wired to an almighty soundystem and marry it with all manner of pots'n'pans metallic percussion. as you can imagine, the results are breathtaking. you really have to see the photographs over at crammed to get an indication of how rare this project is. crammed have promised us not only a full studio album from konono no.1, but also a compilation entitled 'buzz n rumble' featuring five similar acts (due early 2005). when searching for the some konono no.1 files, the above mp3 duly turned up on the excellent mp3blog 'the suburbs are killing us' and is taken from a live album entitled 'lubuaku'. more info on this release can be found over at subterranean distribution.

DJ RUPTURE [SPAIN]
lonesome (feat.lily) mp3
i can't seem to leave this guy alone, but when you've got an artist of such high quality around, what are you gonna do? today i played the track 'little more oil' from dj rupture's new album, 'special gunpowde'r. the track is a collaboration with old skool dancehall artist sister nancy. there's not a great deal of info on nancy around on the web, but you can find some introductory bio info here. the above mp3 is taken from rupture's better propaganda page, where you'll also find a 2nd mp3 from the new album. (i'm listing rupture as coming from spain, and although he's a resident of barcelona, he's actually from the u.s.. so now you know.)

MAGNETA LANE [CANADA]
the constant lover mp3
a three-piece girl band from canada who are probably sick to death of finding people refer to them in the same breath as the strokes. of course, i wouldn't dare do such a thing. thanks to leila from paper bag records in toronto for getting in touch and pointing fat planet in the direction of lexi, french and nadia. this is a killer track, a great slice of alt.pop that has been ringing around inside my skull for the last few days - fast, to the point and smacking you in the nose with a fistful of attitude. all the great attributes of rock'n'roll, surely? check out paper bag records for a diverse roster rammed with quality tunes.

PITCH BLACK [NEW ZEALAND]
lost in translation mp3
this NZ duo have a new album out called 'ape to angel' and i played the track 'freefall' today. they've been playing together for nearly eight years and 'ape to angel' is their third full-length. i found a website that described them as 'the hexstatic of new zealand' - and the sounds definitely fall into the long embrace of the ninja tune style zone. it's a smart blend of warm, dub-infused electronica - which would undoubtedly translate incredibly well to the live arena and festival circuit where pitch black spend a great deal of their time. check out the band's web site for a further batch of free mp3 downloads.

SITJN [BELGIUM]
ochtendbericht mp3
stijn would appear to be the one-man powerhouse behind the mijn label - have a look at the site at mijnlabel.com. the track played today 'wrong' has stijn coming off like tiga in a three-in-the-bed romp with metro area. alas, there's no such similar mp3s on the mijn site, merely some soundtrack mp3s from stijn's work on a project called 'nine to five' - and the tunes are simple, looped minimal electronica, pleasant enough but i'm feeling the ground swell beneath my feet. you might have more joy over at this mini site for stijn 'euphoria' album, where you can stream all the tracks from the album (including 'wrong').



--

071204 08:32

mp3s from artists (or their associates...) who featured on this week's show >>

SHANK [GERMANY]
oust mp3
my guest today was germany's burnt friedman - an artist whose experiments in genres range from dub, jazz and latin to techno, ambient and more. two of his projects stand out - burnt friedman and the nu dub players and his collaboration with uwe schmidt (aka atom heart / senor coconut) on flanger, released through ninja tune. unfortunatly for burnt and myself, and all the show's listeners, we had a classic culture clash - neither of us seemed to really understand each other (glaswegian meets reticent german), so the interview wasn't exactly full of fireworks. that aside, burnt's selection of tracks was impressive and allowed the music to speak for itself (as there wasn't any other choice...). my search for free'n'legal burn downloads wasn't very fruitful, but i've included a track here from shank, a team of six imporvisers from berlin, which opens the compilation 'difficult easy listening' on burnt's label nonplace.

SINGAPORE SLING [ICELAND]
life is killing my rock n roll mp3
a new album from this band, who featured earlier this year on fat planet. this time around, their trademark 'fuzz rock' sound has been more perfectly honed, coming up with dark, brittle guitar pop, the like of which has been rarely spotted since the jesus and mary chain. finland's dead combo had a crack at it recently, but singapore sling play down any electronic influence and instead head for straight-up rock n roll purity! you can find a whole heap of influences in here, and - yes - singapore sling don't win points for innovation, but you're better off letting that slide and just getting off on the joy of it all.

MISS KITTIN & THE HACKER [FRANCE]
1982 mp3
the hacker has a new album out, distributed through play it again sam, and its his first solo album since the runaway success of his collaboration with miss kittin, 'the first album'. the new release, 'reves mechanique' ditches the 'pop' and heads straight for 'electro', although his old collaborator pops up on the track 'masterplan' which i played on this week's show. the above mp3 is a classic example of clean, lean electropop from their 2001 album on international deejay gigolos. hear samples from 'reves mechanique' here.

COBRA KILLER [GERMANY]
let's have a problem mp3
a return visit for this mp3 - the female german duo are gracing sydney with their presence next weekend, so in honour of that smart decision, here's another crack at their track (produced by mr t.raumschmiere) on monika if you missed it the first time.



--

061204 09:39

yesterday's playlist is now online here - mp3s from the show coming soon. thanks to my guest, burnt freidman - more on 'burnt' and his label at nonplace.de.