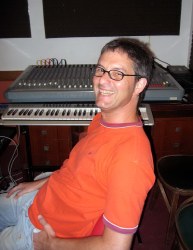 Carlos Libedinsky from Narcotango
by Jackie Ling Wong
Scene: Carlos and I are sitting in Cafe Kass down the street from his music school on Jose Hernandez. He is currently working on the next Narcotango album, renovating the school, and multi tasking the heck out of life. I was happy to find that Luiza Paes' comments about his warmth and openess were correct.
Q: How would you define yourself?
Carlos: I don't know that much about astrology but I do know that I'm a Gemini and my ascendent is in Gemini. (the sign of twins) So 2 x 2 = 4. I identify in that way about myself. I have many ways of life. I am a musician and composer which gives me the ability to have a connection to life in a sensitive way but it is not enough. I need to do something. I have to be a producer. I have a brain that has many portions. I like to use everything. I need to move and change because I don't like to be boring.
The 20 years with the music school helped me alot. I manage the school so I need knowledge about people. We have 150 students so we also organize bands and shows. The students are 5 - 17 years old. It helps me to be a better organizer (as a producer). I also realized that I don't like to have other people telling me what to do. I like my time. If someone pressures me, I don't work. It is important for me to have freedom.
Q: So how did your journey start?
Carlos: I started to work in 2000 after I started to dance tango. I started dancing at the beginning of 2000. I was in a festival playing with a Tango group when I noticed Tango teachers giving classes. I had been playing tango for 10years and never danced! I had nothing to do so I took the class. There was a strong connection is this class... a light...so now I have a new passion...dancing.
Then I traveled totally alone and made the tango route through the USA and Europe. I took my guitar and went to milongas and asked if I could sing and play my guitar. I did this for 4 months....just with my guitar. I danced every night (now with 6 mos of dance experience). I returned to Buenos Aires and danced 4 - 5 nights. At the same time I was writing songs and decided to record them, which was the Aldea Album.
Q: What I found interesting in that album, is that you introduced songs which were electronic... like a sneak preview of Narcotango.
Carlos: Yes. At milongas, I started to feel that my body wanted to dance to something more related to our time. I love traditional but I also love to live in this moment. Also I was looking at other dancers from Europe who have different ways to dance. I needed to dance to contemporary music. At night, I would listen to Tango at the milongas but at home I would listen to Tom Waits and discovered that I could Tango to Tom Waits music ...and Bjork. I started experimenting in my studio.
I went to an outdoor milonga on Sunday and afterwards took some friends back to my studio to play the new music. I could see that there was a connection. I opened the doors to the studio and we started to dance. Until that moment I didn't know that something big was happening. Until that moment, I was isolated... by myself creating. ... playing many of the instruments and doing the recording engineering myself.
Q: So it must have been inspirational for you and reaffirming.
Carlos: Yes. I worked for 2 years on Narcotango. After I made a couple of tracks, I would give them to my friends. They would travel abroad and play the music. So people were familiar with my music one year before the release of the album. It was a huge motivation for me. Especially because the DJs in Buenos Aires did not want to play the music. Now, Mario Orlando (a DJ in Buenos Aires) played my music at the end of the evening at Sunderland Club. 6 milongueros started to dance and they were great! Mario introduced them to me.
Q: Who listens to your music? Who are the consumers?
Carlos: At the beginning I expected only Tango dancers. But now I can see that others like it too. When we perform here in Buenos Aires, people attend from outside Tango. The music is recorded from Tango so I was surprised that others would like it and buy the CD. Many TV programs use the music for introductions. It's such a new sound for Tango. Now it is played in bars especially in Palermo.
Q: So walking around... hearing your music everywhere... do you feel famous?
Carlos: Yes... well no.. my music is famous. They know the music but not me. The music is more important than the person. I am surprised when I receive email from all over the world.
It was such an explosion. Bajofondo's album was released in May and Narco Tango was released in August. Not many people here in Buenos Aires knew about Gotan. It worked out for me because Universal wa producing the Bajofondo album so the promotion for electronic tango was tremendous. So in the stores when people would ask for Bajofondo, the sales people would also suggest Narcotango. So the timing was perfect for me.
Q: My first exposure was to Gotan and I loved it.
Carlos: Gotan was released at the same moment I produced my first CD so people say that we were experimenting at the same time.
Q: What would you say are the differences between the three groups?
Carlos: Gotan and Bajofondo are more electronic. My music has more of a tango flavor. I dance tango so the motivation is different. I understand that the Argentine who plays in Gotan didn't realize that people were playing his music at milongas.
Q: Where are most of your album sales?
Carlos: I think it is 1/2 in Argentina and 1/2 for export.
Q: So a perfect night at a milonga would be...?
Carlos: I like change. I don't like a whole night of electronic but I also get bored with all traditional.
Q: Which are your favorite to dance to? of your music?
Carlos: Vi Luz y Subi
Plano Secuencia
Otro Luna
Mejor Asi
La Tropilla de la Zurda
Humo
Track 4 is great for listening Un Paso Mas Alla
Q: So some of the pieces are better for listening?
Carlos: Sure. Once Chicho danced 2 tracks from my album and I asked him if he wanted to dance to new tracks. He said yes and it was incredible. And a great test for my music. I also dance with my girlfriend to test the music.
Q: Who do you like for traditional music?
Carlos: Pugliese, Di Sarli, Salgan, Troilo
Q: And less traditional?
Carlos: Pugliese and some Piazzollas.
Q: And what style do you dance?
Carlos: It depends on the music. My music - I like to dance open except the track Plano Secuencia which I dance close embrace .
The music drives my dance style and it also depends on my mood and partner. I started dancing close first. It was hard when I started learning open because at first the space felt empty. The mood is also so different for me. Open - I feel more like games, more fun, more creative, experimental. Close - I feel more sensitive, emotional.